ABOUT:
World is a virtual reality that relies on text and ANSI colors as the medium. All that is required to connect is a real or emulated terminal that mimics at least a color enabled vt200.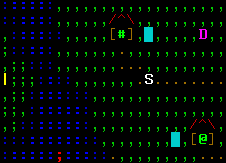 CONNECTING:
CONNECTING: telnet world.dv8.org 7154 or ssh world@world.dv8.org
SCREEN SHOTS:
Recent creen capture in an Xterm.

Another recent screen capture in an Xterm showing off 'evening' time in the map.

Terminal capture from an older running version of world.

Entire global composite of a recent map. (WARNING: a really big 343k png)
SOURCE:
DEVELOPMENT:
Design and coding wiki.
DISCUSSION:
Bulletin board
LINKS:
100 of the most recent url's uttered in world.
CONTENDERS:
Second Life WoW Shadowbane A Tale in the Desert Vir's Odyssey Anarchy Online Dark Age of Camelot Legend of Mir Dusk Majik3D Crossfire WorldForge AsheronsCall UltimaONline Order of Avalon ADOM Never Winter Nights Lineage There